Prizrenija Republic declared independence on the 10th April 2012.
(Prizrenian) Republika Prizrenija
(Slovak:) Prizrenska Republika
10th April 2012-? Prizrenija Republic


Flag

Coat of Arms

Capital
Prizren
Official languages
Slovak, Przrenian
Denonym
Prizrenian
Government
Rebel Democratic Republic
Leaders
President: Pribislav Medveđ
Founded
10th April 2012
Location
Iryllia
Population
2
Currency
€ (Euro)
Creation of the Republic
Edit
The Prizrenija Republic was created on the 10 th Apéril 2012, when the Prizren congress took place.The idea of an independent prizren was encouraged by Slobodan Pavelić.
Prizren Rebellion
Edit
The Prizren Rebellion started on the 20 th april 2012.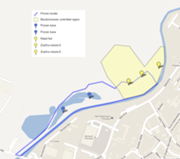 Government
Edit
The government is made up of the President, who is to be elected each month.
Population
Edit
Origanally, the population was two (P. Medveđ and J. Izbiacki). After declaring independece, the population sank to two, but was later increased with P. Izornski arriving from Izornia.
Existing nations

Republic of Srnska Krajina

Extinct nations

Republic of Nýsna , Patrachinate of Kazania , USIS, Republic of Srnska , Republic of Jadranska,Hetmanate of Kazania,Principality of Virdo ,Narentia, Republic of Prednádražie, Srnieckia,Itoriak republic Vartakia Izkania, Iztaria,

Seperatist groups
Seperatist groups no longer active

Musrati Republic, Republic of Kazania-Nýsna , Preskovan Republic, Suvak Republic,Cherrycream plot, Workers´ Soviet Republic Republic of Srnska Krajina Lasvar Republic Iryllian Armed Rebellion, Slobodarsko-Jablonječka Republic Prizrenija Republic Izornia rebels Izba-Ursanistan, Izbiak National State, Republika Slovenska Tarica
Community content is available under
CC-BY-SA
unless otherwise noted.